Rating: ★★★★ (4/4)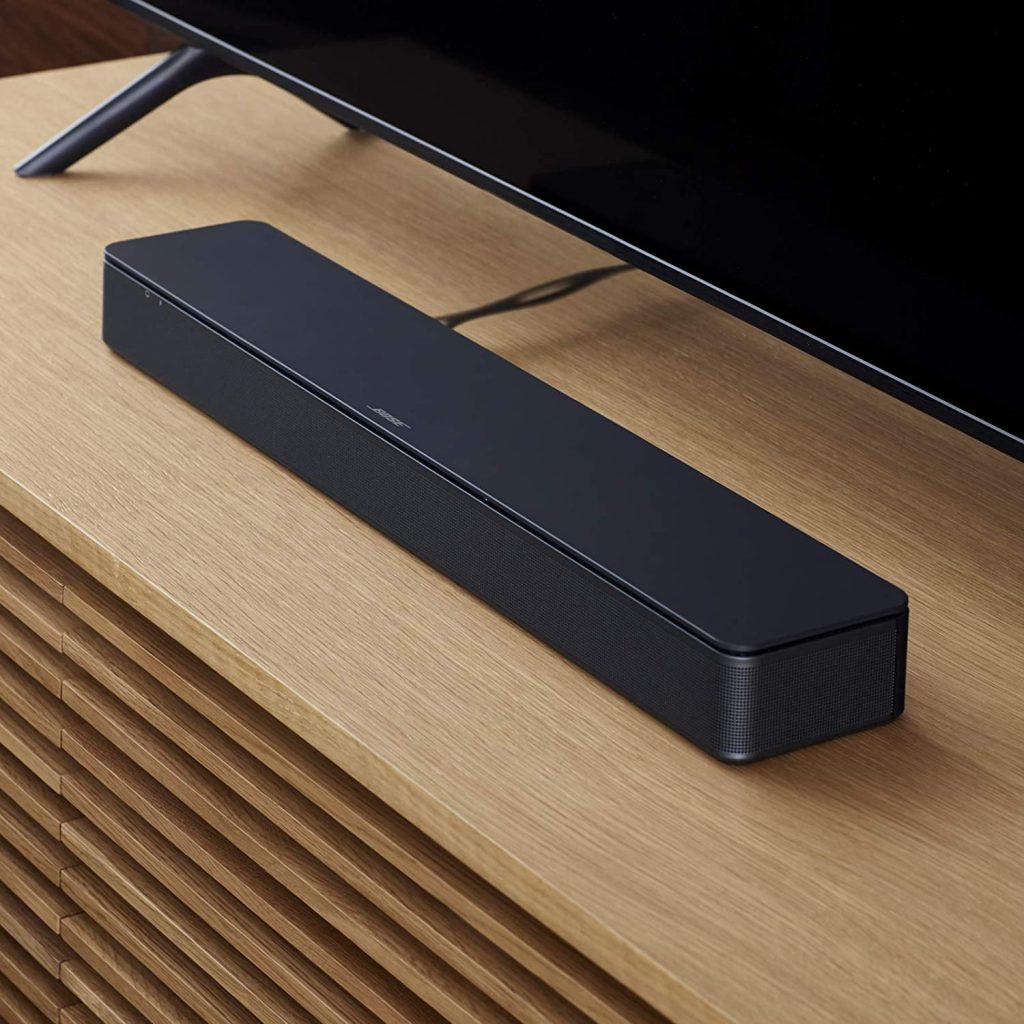 Upon unboxing the Bose TV Speaker – Soundbar, one is immediately struck by its sleek, minimalist design. The Soundbar, encased in a compact black body, is not only aesthetic but a perfect fit for any living room layout. With a design that prioritizes both function and form, it's evident that Bose, a market leader in sound technology, has left no stone unturned to provide an audio experience par excellence.
Shop the Amazon Bose Store Right Now
The Bose TV Speaker's standout feature is its sound quality. A sound test reveals the depth and complexity of the audio it produces. The dialogue mode brings a remarkable clarity to speech, an absolute boon for lovers of talk shows, news programs, and dramatic movies. Music, too, is a joy to listen to on this device. The soundbar provides a wide range of frequencies with an emphatic bass that doesn't overpower the mid and high-range sounds, lending a balanced, rich feel to your favorite tracks.
The HDMI-ARC Connectivity is a powerful feature, providing seamless connection to your television set. This one-cable connection makes setup an absolute breeze and delivers superior sound quality. However, for TVs without HDMI-ARC, an optical input is provided, though it's worth noting that this might not match the performance of HDMI-ARC.

Bluetooth connectivity is a feature that brings this soundbar into the realm of multipurpose speakers. The easy-to-pair function enables the user to stream audio from any Bluetooth-enabled device, expanding its use beyond the TV. Whether it's playing your favorite playlist from your smartphone or listening to an audiobook from a tablet, the Bose TV Speaker doesn't disappoint.
Included in the package is a dedicated remote control. While it feels a bit basic compared to some other soundbar remote controls in the market, it is nonetheless effective, providing the necessary buttons for power, volume, Bluetooth, and more.
However, there are some areas where the Bose TV Speaker could improve. The device lacks a dedicated subwoofer, which might disappoint some audio enthusiasts seeking earth-shaking bass. While the built-in bass is decent, it might not live up to the expectations of a high-intensity action movie or a bass-heavy music track. Also, the absence of advanced sound formats like Dolby Atmos means you're missing out on some immersive sound experiences offered by competing products.
To conclude, the Bose TV Speaker Soundbar is a robust, sleek, and high-quality audio device. It excels in delivering clear, balanced sound and offers useful features like HDMI-ARC and Bluetooth connectivity. Its dialogue mode is a real game-changer for enhanced speech clarity. Despite a few areas for improvement, this soundbar stands as a strong contender in its price range. If you value excellent sound quality, ease of use, and a brand name that's synonymous with reliability, the Bose TV Speaker Soundbar might be a great addition to your home.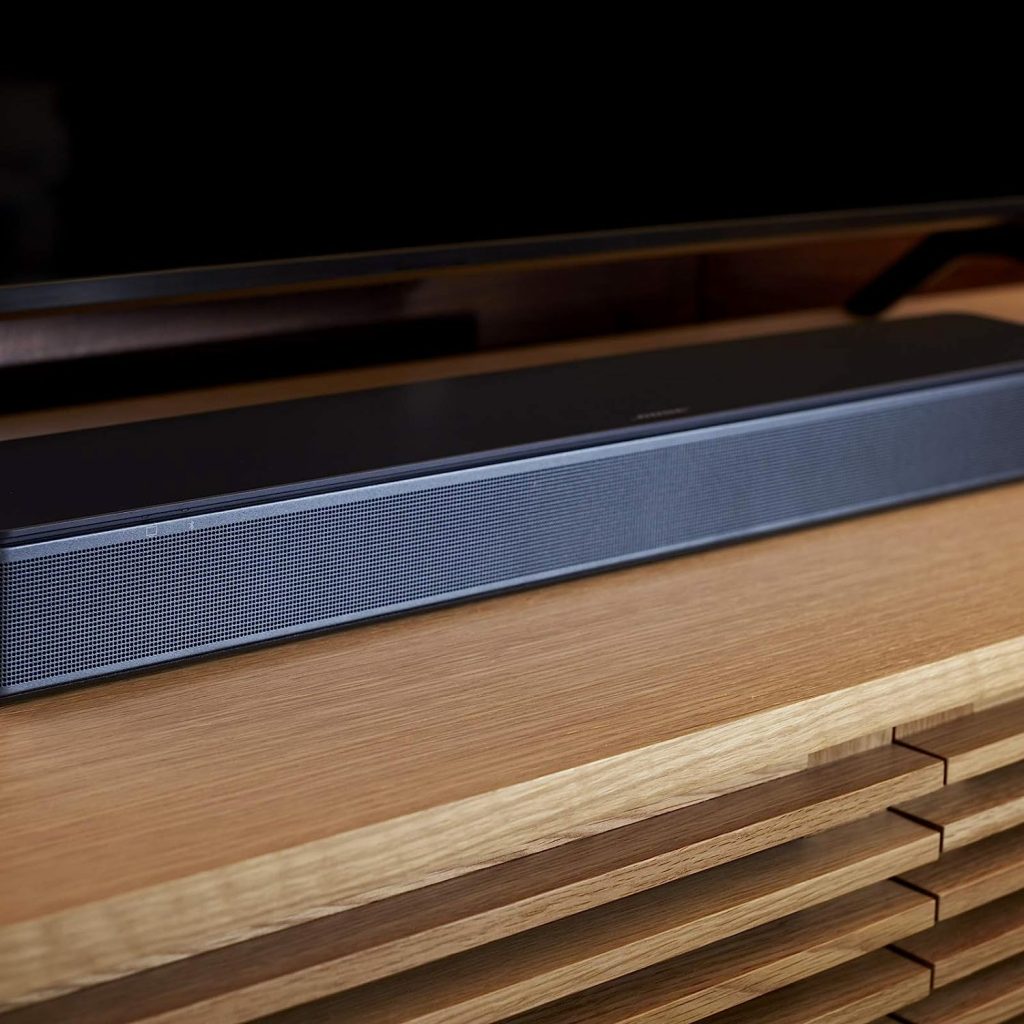 Diving further into this review, the Bose TV Speaker Soundbar scores high on its overall ease of use. The simplicity of the setup process is a real advantage, particularly for those who may not be tech-savvy. The user manual provides clear instructions, and with HDMI-ARC or optical cable connections, you're ready to start your audio journey within minutes.
The Soundbar also comes with automatic power on/off features, detecting when your TV is turned on and off. This smart feature saves energy and adds to the hassle-free user experience.
In terms of aesthetics, the soundbar's compact size (around 2″ high, 4″ deep, and 23″ long) makes it an unobtrusive addition to your home setup. Whether your TV is placed on a stand or mounted on the wall, the Bose TV Speaker fits in effortlessly. Its sleek black body and understated design exude a contemporary look that complements any decor.
For those who like to host, the Bluetooth connectivity is a fantastic feature. Guests can easily connect their devices to play their favorite music, making for an interactive and entertaining experience. The soundbar's range is impressive, maintaining stable Bluetooth connections even from a considerable distance.
The remote control, though simple, is intuitive and responsive. It includes helpful functions like the ability to toggle the dialogue mode on/off and control the base volume separately. While there's no screen on the remote to give visual feedback, the audible feedback from the speaker provides a reliable way of knowing your commands have been registered.
While the Bose TV Speaker Soundbar is a stand-alone device, Bose offers the option of enhancing your setup by purchasing a separate Bose Bass Module. This addition can greatly enhance the bass performance, thus overcoming one of the main drawbacks of the Soundbar.
One point to note is that at higher volumes, some distortion can be detected. However, for most users who do not crank up the volume to the maximum, this should not be an issue. Also, as of my knowledge cut-off in 2021, the Soundbar did not support the addition of rear speakers for a full surround sound setup, which some users may find limiting.
In conclusion, the Bose TV Speaker Soundbar is a reliable and high-performing audio device. Despite a few minor shortcomings, its top-tier sound quality, coupled with its ease of use and versatile connectivity options, makes it a strong contender for anyone seeking to enhance their home audio experience. It is more than just a TV speaker; it's a versatile and stylish audio solution for your home.
Buy Your Bose TV Speaker Now